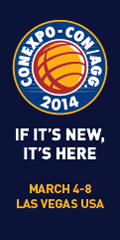 Exhibiting at CON/AGG 2014  
March 4-8, 2014 / Las Vegas Convention Center
For a week in Las Vegas this March, AZFAB and Crisp Industries, Inc. will bring innovation to the Con/Agg Expo. Please visit us in the Central Hall, booth #52728.  AZFAB will be exhibiting equipment showing a mixture of our product line.
Please stop and talk with us about the ultra fines recovery module that we have on display.  We will have a Super Cutter Hydro-Cyclone module and Dewatering Screen in our booth.  This Module will have the ability to effectively remove fines in your effluent stream down to the #300 mesh.
Knowledgeable representatives will be on hand to discuss you specific application and chat about how AZFAB may be able to help you with processing questions you may have.
Come see us at booth #52728