About Us
Arizona Fine Aggregate Business was purchased by John Crisp owner of Crisp Industries, Inc. in February 2009, and is now doing business as AZFAB Acquisition LLC Company. Arizona Fine Aggregate Business, also known as AZFAB began business in 2001. Duane Wetherbee, former owner and current Vice President of Operations at the Arizona facility brings 38 years of experience to the business. He has worked in research and development, plant operation and management, sales and service in the aggregate and mining industry. CRISP INDUSTRIES, INC. 30-acre headquarters site is located just north of  Dallas/Fort Worth, near DFW Airport, in Bridgeport, Texas.  Our 100,000 sq. ft. modern manufacturing and warehousing facility includes: fabrication shops, paint facility with modern HVLP system, controlled environment rubber shop, parts warehouse and equipment yard.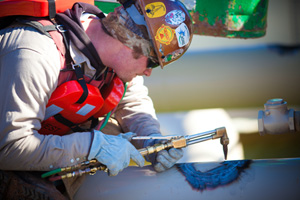 Crisp Industries specializes in design and construction of new aggregate material systems, as well as custom fitting major additions to customers' existing operations. Our expertise ranges from complete project management, to designing and building basic conveying systems. Purchasing AZFAB was a great fit to our current bulk material systems. AZFAB and Crisp Industries' design staff works closely with customers, assessing each aspect of the customer's needs to ensure an efficient and innovative equipment design to fit in a new or existing system. Working with our companies, you and your business can be sure you are receiving top-of-the-line hardware, along with the best structural steel, design, and practical experience that any manufacturer in the field has to offer.
"Complete Project Management", describes our capabilities, offering fabrication, construction, design, concrete foundation work, electrical systems, and surveying. Crisp Industries, Inc. has designed, fabricated, and built a multitude of aggregate plants for many leading producers. AZFAB and Crisp Industries takes pride in using the highest quality workmanship in the fabrication and construction of all projects, while doing so in a timely manner and at a competitive price.

CRISP INDUSTRIES, INC. and AZFAB are customer-oriented companies, striving to build long lasting customer relationships.  We are committed to continuous improvement in our service, in our products, in safety and in our personnel.  We emphasize professional and ethical business dealings with customers, vendors and employees.  Customers are assured top quality service every time.  Please visit our website for more information: www.crispindustries.com.